This weekend, the UK will be celebrating 60 years of the Queen being on the throne. The only other Queen to reach her Diamond Jubilee was Queen Victoria.
In honour of this illustrious time, we present a recipe that was devised for Queen Elizabeth's coronation. Enjoy and happy Jubilee weekend!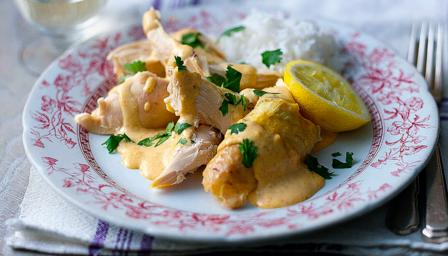 Ingredients
1.5kg/4lb free-range chicken
4 spring onions, sliced
6 garlic cloves, peeled, left whole
1 tbsp sea salt
10 whole black peppercorns
For the sauce
1 tbsp vegetable oil
1 onion, chopped
1 tbsp curry powder
1 tbsp tomato purée
85ml/3fl oz red wine
150ml/¼pint water
1 bay leaf
salt and freshly ground black pepper
caster sugar
2 slices lemon
squeeze of lemon juice
425ml/15fl oz good-quality mayonnaise
2 tbsp apricot purée (made by blending 4-5 stoned, dried apricots with 3 tbsp water)
3 tbsp whipped cream
To serve
1 tbsp roughly chopped coriander
rice, cooked according to packet instructions
Preparation method
1.Place the chicken into a saucepan with a tight-fitting lid, cover with water and add the spring onions, garlic, salt and peppercorns.
2. Bring to the boil and simmer for 30 minutes, turning the chicken once during the cooking process. Cover with a lid and switch off the heat. Leave for one hour, then remove the chicken, allow to cool completely, and tear the chicken from the bones into rough pieces.
3. Meanwhile, for the sauce, heat the oil in a pan over a medium heat. Add the onion and cook gently for 3-4 minutes. Add the curry powder and cook for a further two minutes, stirring well. Add the tomato purée, wine, water and bay leaf.
4. Bring the mixture to the boil. Season with salt and freshly ground black pepper, then add the sugar, lemon slices and lemon juice, to taste. Reduce the heat until the mixture is simmering and simmer, uncovered, for 5-10 minutes. Strain the sauce through a fine meshed sieve and set aside to cool.
5. Gradually fold in the mayonnaise and apricot purée, to taste. Add more lemon juice, as necessary.
6. Fold in the whipped cream.
7. To serve, arrange the portioned chicken on a large platter, pour the sauce over the top, sprinkle with the coriander and serve immediately, with rice.